Press Release from 07/03/2016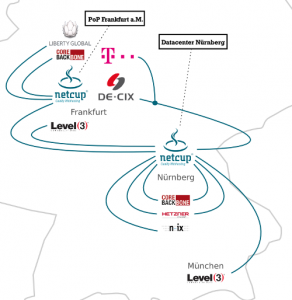 Karlsruhe, Germany – The internet provider netcup (www.netcup.eu) has expanded its network structure by adding direct network connection with Liberty Global, one of the largest global broadband providers. The media group is present in 12 European countries and supplies Internet access to the majority of German households via its German subsidiary Unitymedia GmbH.
"By adding the network connection we have increased our data transfer speed even more. Plus the reliability and data security of our own infrastructure has been improved thanks to the additional Internet nodes," Oliver Werner, Managing Director of netcup GmbH said. "This new cooperation also enables us to cut the latency of our data packet and manage the capacity reserves of our transmission lines more effectively," he adds.
netcup began connecting its internal infrastructure to several major network operators, such as Deutsche Telekom AG, last year, and commissioned its own Point of Presence (PoP) in the FFA4 datacentre of Interxion in Frankfurt. The redundant connection to the pre-existing most important Internet nodes, DE-CIX, N-IX and the direct network link to Liberty Global and Deutsche Telekom, results in a capacity of 111 GBit/s for the entire connection. "This high-speed data link means our root server has reached a guaranteed availability and a maximum reliability of 99.9%, allowing us to provide high-demand, international companies with a highly available, redundant IT infrastructure," Oliver Werner said.
Netcup has also announced that it will be driving forward the connection of its infrastructure to DSL providers again in order to avoid capacity bottlenecks. "This expansion is necessary so that our customers can guarantee a high-speed Internet connection to their final customers," Werner said.
You can find further information at: Hardware and Network Infrastructure
Download Press Release as PDF: pm_07.03.2016